Back To Blog
While buying a new home or building one, nearly all home owners are keen to invest in the right type of garage door based on their taste and budget. The style of the door should match the rest of the home and possibly even the neighborhood. Now there are ample options and top brands like Chamberlain, Stanley, and Clopay garage doors offer a wide range of door designs and styles. In addition to this you also need to choose the right garage door opener and other accessories that suit the style. Let's learn about different door styles that will help you make the right choice.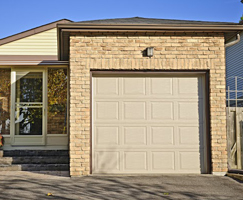 Carriage house style
This is a traditional style and derives its name from the horses and carriages that were owned by affluent families over a century ago. However, they are still in vogue today and carry modern touches now. Decorative hinges, accessories and garage door windows are commonly found in this style. If you own an American colonial, ranch or log cabin type home, then the carriage house style door is perfect.
Modern doors
Modern homes have a clear linear appearance and the design is pretty straightforward and similar to other homes in the neighborhood. Garage doors for such homes are also built likewise to match the structured design. There are minimal accessories and decorative hinges and this is best suited for
A-frame and contemporary homes.
A raised panel door is the third option and is commonly found in most American homes. These doors are paneled and can be easily opened with a garage door opener. This style can be used for any type of home or neighborhood. Even if you want to replace an existing garage door, you need to keep the style in mind so that it matches the design of the home.